It's been a busy old week and a very enjoyable one! In between some freelance work in Birmingham, I managed to fit in a trip to London to see Sioned Williams performing at the Purcell Room. It was a fantastic concert, brilliantly conceived and performed and it was very well received by the near capacity audience.
The concert was put on by the Park Lane Group and was also part of the UKHA 50th birthday celebrations. And what a fantastic turn out by harpists from across the country who came to the concert. Playing the harp can be a solitary affair and it's not often we get the chance to all meet up, so it was lovely to meet up with so many harpists. I met some harp friends that I hadn't seen for nearly 20 years!!
It's been 18 months now since I became Chair of the UKHA and I was really pleased to meet so many young harpists at the concert. There is a real sense of a new generation of younger harpists coming through and being active in the UKHA, which bodes well for any organisation going into it's 50th year. For any organisation to have 80% of the committee being made up of people in their 20s and 30s is quite remarkable.
We have a new bursary scheme which is
being launched in January
, and we hope to be present at more harp events across the UK in the coming year.
Belonging to the UKHA is a fantastic way for harpists in the UK to connect with other players, whether they are a student, amateur, professional or harp maker. If you love the harp,
join the UKHA
and network with other harpists across the UK.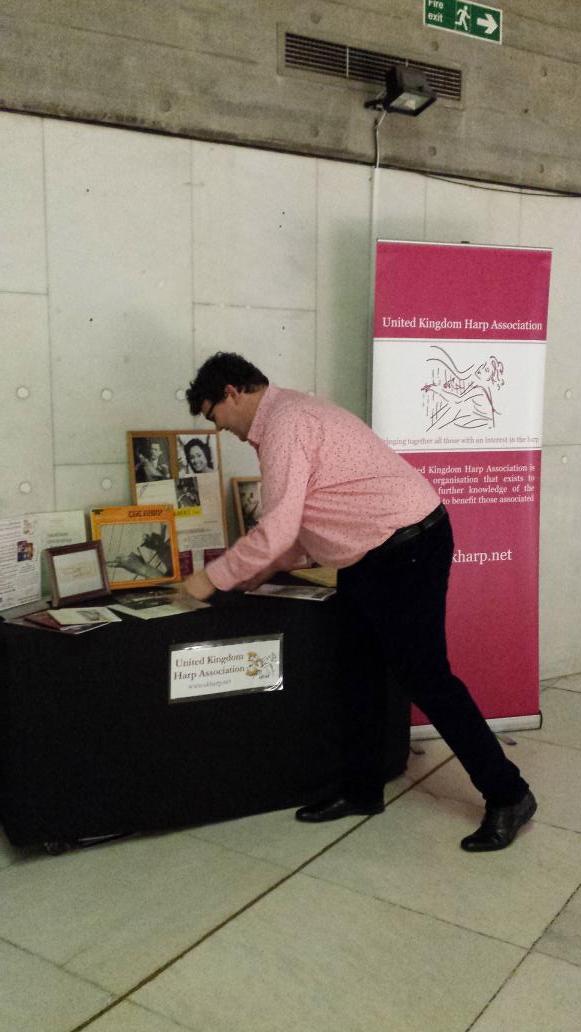 Setting up the UKHA table in the foyer of the Purcell Room before the audience arrived
;-)